Thailand provides investors with a hugely attractive option as a base of operations and manufacturing center. Enjoy a superb location thatcomes fully equipped with comprehensive resources and amenitiesfor both work and leisure; and the friendly, courteous manner of the Thai people.


The Gateway to ASEAN and Beyond
Thailand enjoys a strategic location and serves as a gateway into the heart of Asia – home to what is today the largest growing economic market.

The country also offers convenient trade with China, India and the countries of the Association of Southeast Asian Nations (ASEAN), and easy access into the Greater Mekong sub-region, where newly emerging markets offer great business potential
Social and Political Stability
Thailand is a foreigner friendly and welcoming Buddhist country. The country's form of government is a constitutional monarchy, with a high reverence for the Thai Monarchy, and
devotion to the teachings of Buddhism. And although the vast majority of the people in Thailand are Buddhist, all religions are welcome, and His Majesty the King is the patron of all religions.
Growing Economy
Thailand's economy continues to expand, bolstered by healthy exports and an enthusiastic domestic market. The kingdom itself is rich in resources and boasts a skilled workforce that is highly attractive to foreign investors. These factors together have helped to sustain high levels of business confidence and industrial development.
Government Policy to Support Foreign Investment Click more Information
Thailand's investment policy is designed to stimulate expansion of trade. The Government supports foreign investment as a means of developing technology and skills and stimulating greater innovation. The Kingdom is frequently acknowledged by international surveys as a highly promising environment for investment. For instance, World Bank ranks Thailand as number 12 in terms of 'convenience in establishing business.
Readiness in Infrastructure
The Nation's globally competitive industrial zones along with a highly developed transportation, communication and technology infrastructure, is open and accessible to foreign investors.
Provision Supports and Privileges from the Government
There are numbers of government offices working on investment support for the investor of all kinds. Thailand's Board of Investment (BOI) offers an attractive range of tax incentives, support services and import duty reductions and exemptions for an extensive list of manufacturing activities, as well as a One Start One Stop Investment Center and a One-Stop Service Center to expedite visas and work permits.
Long Term Industrial Development and New Industry.
With steady economic development and strong support industries, the country's industrial production has grown and diversified rapidly both in long–established and newly emerging industries. The government has emphasized attracting investment in six sectors that have been determined to be keys to the country's developmental objectives. These six target industries include: agriculture and agro-industry, alternative energy, automotive, electronics and ICT, fashion, and value-added services including entertainment, healthcare and tourism.
Education
The education standards in Thailand are accepted by many international examining bodies, and a great number of international schools and colleges offer world-class education, while its universities are outstanding.
Source: Thailand Board of Investment www.boi.go.th
Thailand Real GDP Growth Statistic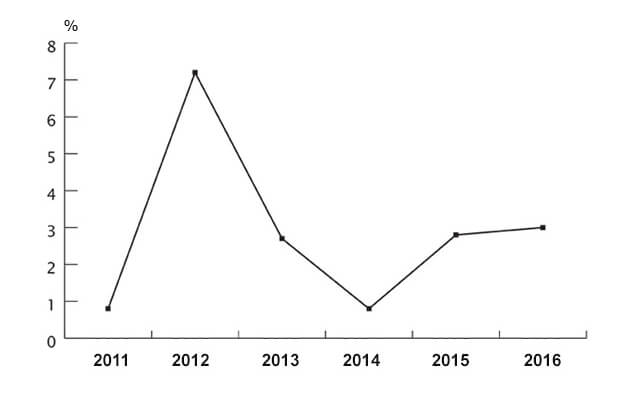 Thailand GDP 2011-2016 Statistic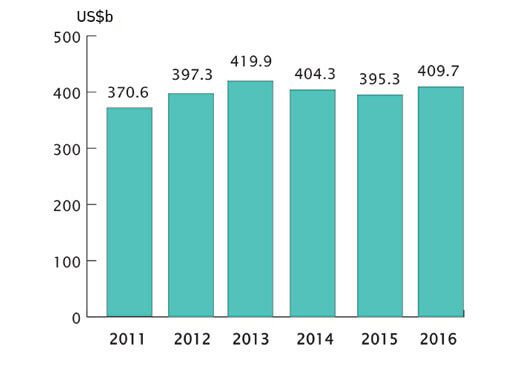 | | | | | | | |
| --- | --- | --- | --- | --- | --- | --- |
| Economic Indicators | 2011 | 2012 | 2013 | 2014 | 2015 | 2016 |
| GDP (US$b) (current price) | 370.6 | 397.3 | 419.9 | 404.3 | 395.3 | 409.7 |
| GDP per capita (US$) | 5,497.3 | 5,846.3 | 6,148.0 | 5,889.0 | 5,742.3 | 5,939.6 |
| GDP PPP (Int'l $b) | 913.5 | 997.6 | 1,041.3 | 1,067.0 | 1,108.1 | 1,152.4 |
| GDP per capita PPP (Int'l$) | 13,505.9 | 14,680.4 | 15,246.2 | 15,541.6 | 16,097.4 | 16,706.3 |
| Real GDP growth (% change YoY) | 0.8 | 7.2 | 2.7 | 0.8 | 2.8 | 3.0 |
| Current account balance (US$b) | 8.9 | -1.5 | -5.2 | 15.4 | 34.8 | 32.6 |
| Current account balance (% GDP) | 2.4 | -0.4 | -1.2 | 3.8 | 88 | 8.0 |
| Inflation (% change YoY) | 3.8 | 3.0 | 2.2 | 1.9 | -0. | 0.2 |
| Unemployment (% labour force) | 0.7 | 0.7 | 0.7 | 0.8 | 0.9 | 0.8 |
Source: Department of Foreign Affairs and Trade, Australian Government